Accessing food in later life
Eating well is essential to good health and wellbeing. However, some people find it difficult to access and consume safe, nutritious and tasty (or socially acceptable) food. These difficulties are known as food insecurity. For older people, this is commonly linked with social or health problems - mobility issues, lack of transport or difficulty carrying shopping bags are just a few of the issues faced when shopping for food. In addition, health problems, poor cooking skills or a lack of motivation to cook or eat can pose challenges at home.

It is vital that individuals and organisations working with older people should understand the challenges that they face. Malnutrition affects 1 in 10 older people and can cause serious health issues like weakening the immune system, inability to recover from illness, and even death. This makes it crucial that older people are supported to cook, eat and shop.

The Food In Later Life Game helps address this issue, delivering practical knowledge and confidence to those supporting, living with or providing a service to older people, with the ultimate aim of improving health and wellbeing for the older generation.



Who should play The Food In Later Life Game?
The Food In Later Life Game helps people to consider the things that we can all do to help older people continue to access and enjoy food in later life, therefore helping to prevent malnutrition and its associated health issues.
Anyone in a care or support role or providing a service used by older people would benefit from playing this game, such as:

Staff in supermarkets or food stores
Social care staff working in the community
Community groups such as Meals on Wheels or lunch group providers
Volunteers working with older people
Students studying dietetics, social care or hospitality
Hospitality and catering staff
Anyone working in public health
Healthcare staff including community, mental health and practice nurses and students
The role of food retailers
A study by the University of Hertfordshire discovered that for older people, staying in control of their shopping is a key part of remaining independent. For some older people living alone, a shopping trip may be their only source of social interaction with other people. As an integral part of the community, supermarkets and other food providers have a key role to play in protecting older people's food security and wellbeing
Small changes in approach can make accessing and consuming food much easier for older people. Changes can be as simple as rest areas in supermarkets or large print menus in restaurants – The Food In Later Life Game helps staff discuss and explore the changes they can make to provide a more inclusive environment.
Testimonials
"This game asks, and answers, questions around the issue of food and older people and helps those working with older people to gain a better understanding of the issue. Ultimately this is the best way of keeping people fit and fed and the game really helps for that."

- Councilor Roberts, Hertfordshire County Council.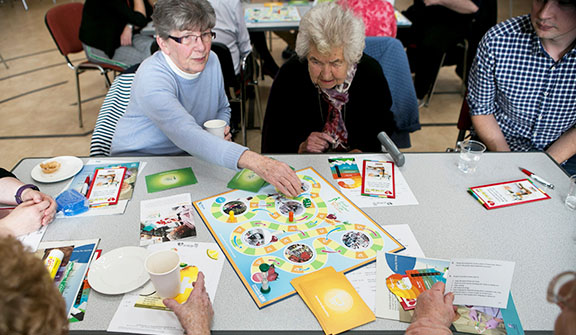 Staff, volunteers and older people play Food In Later Life Game at Malnutrition Awareness Week event.
"The Food in Later Life Game is great at getting people to think about food insecurity in later life and the barriers to eating well which can increase the risk of malnutrition. It generates conversations about how things could be done differently and this promotes change in the community."

- Sally Grubb, Eat Well Age Well Project Dietitian.
"We played the game to encourage conversation regarding healthy meals and the accessibility of food. The group enjoyed exchanging useful ideas about managing their access to food. They felt reassured by individuals experiences which reflected problems they had also encountered. We would have most certainly liked to play the game again. The thoughts and ideas from the attendees created a better understanding of their lives. As independent older adults, shopping and mealtimes are difficult to manage. The discussion process was very interesting and thoughtful - we even discussed WW2 rations and mealtime recipes!"

- Emma Ring, Keyham Lunch Club, Plymouth